gue itu paling nggak suka kalo ada yang batalin janji ama gue mendadak. apalagi kalo alesannya terdengar sangat tidak bertanggung jawab. I don't care mau elo kenalan gue, temen baek gue, even gue marah kalo tiba-tiba pap mam gue batalin janji ke gue.
nggak tau kenapa.
buat gue, bikin janji itu perlu tanggung jawab. *
cailah
*
beneran lho, kalo si A bikin janji, si B yang dijanjiin kan pasti ngarep.
kalo mau batalin, well.. make a reasonable reason.
yak. maapkan all the blabbing above yaaa.. hehehe. this day just end up badly for me. :(
and umm, here's my today's outfit.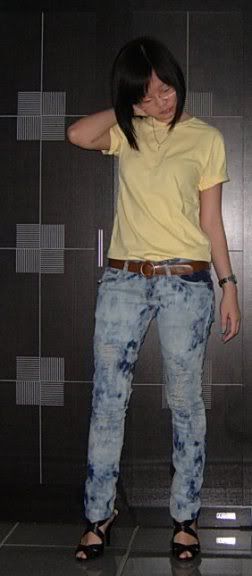 tees : hypermart.
*yep, only 30k!*
| jeans : LM for Hardware
*this is my fave jeans for now !*
| shoes : Charles and Keith | belt : Gaudi